There's a reason it's called the UPbed Independence
This bed offers multiple comfort levels and positions for sleeping or sitting. Elevate your head, raise your legs, lift your knees or sit up a bit—so many ways to customize body positions to help relieve back and shoulder aches, pressure-point discomfort, stress and tension. The back and knee sections operate independently or together, focusing relief where it's needed. No more tossing and turning to find a comfortable "nest" that encourages sleep—the bed can find one for you.
Other benefits of the UPbed Independence include:
Smooth, gentle adjustments & rotation
Back & knees raise/lower independently
Comes with premium Memory Foam mattress
Includes two USB power outlets at base
Motion-sensitive underbed safety light
Intuitive, easy-to-use remote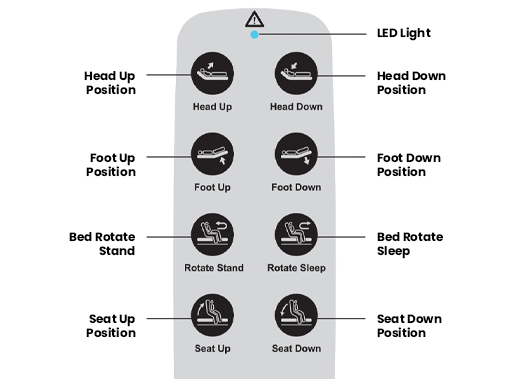 Most important, this bed can make independent living a reality again for homecare patients…and life much, much easier for caregivers. Imagine the freedom of getting in and out of bed yourself, on our own schedule, under your own power, without having to push yourself upright in the morning or depending on others to get you settled in at night!